10 TIPS FOR SEWING YOUR OWN WEDDING DRESS
Do you have a wedding in your future?  Are you contemplating sewing your wedding gown, instead of buying one?  If you've pondered this and read some dismal reports from others online who journeyed into the land of bridal sewing with poor results, don't worry.  I'm here to tell you that the experience can be positive and can result in a beautiful gown that's uniquely you.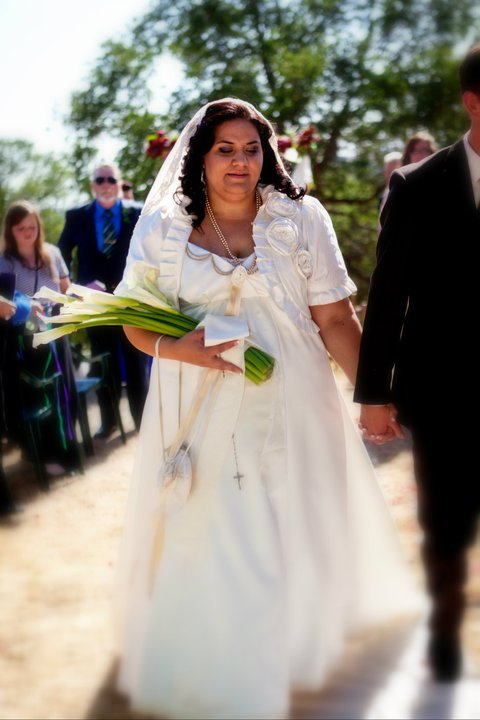 Sewing your dream wedding dress need not be a horrific or stressful experience.  It can be a beautiful, calming, and wonderful venture, if only you let it be.  You're creating something with love for a union with your partner. Your dress will be a special garment that you can treasure for years and look back on with fond memories.  Sewing such a priceless garment is a deeply personal experience, one that demands extra time to consider all those little details not added to everyday pieces.When I began planning my wedding, I knew that I wanted to sew my wedding dress.  My mom sewed her wedding dress and my great-grandmother sewed my grandmother's dress.  Besides following in the footsteps of a family tradition, I was never enamored with what I saw in bridal magazines.  I was the girl who always wanted to be unique, but gowns in bridal magazines were pretty much the same. Nope!  Not for me.  I wanted something that was my style and meant forme. By sewing my own gown, I was able to get just that.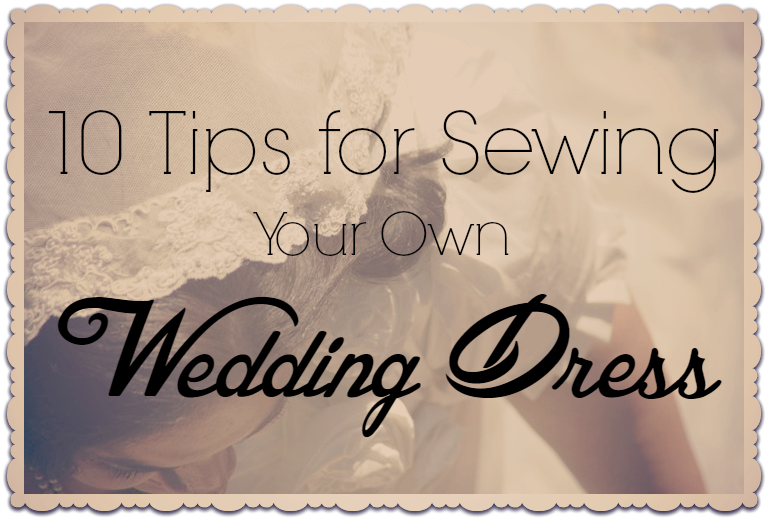 1.  Give yourself plenty of time.  I had a year-and-a-half to plan my wedding.  That gave me all the time I needed to dream up and sew my gown.  You don't want to be rushed.  If you're rushed, you're stressed. That isn't pleasant for anyone — including your dress!
2.  Set a budget.  Sewing your own dress will not necessarily be cheaper than purchasing a dress.  You will most likely need an immense amount of fabric and, depending up on your chosen fabric content, it may be costly.  If your wedding has a strict budget, be sure to consider the cost of your dress materials carefully. It's not just your main fabric to budget for, but muslin fabrics, linings, closures, and embellishments.
3.  Try on dresses.  The best way to discover your dream dress style is to actually try one on!  Make a day of it and go gown shopping with your friends.  Try on different silhouettes and find out which style speaks to you.  Take photos and use them for your inspiration. By figuring out your gown likes and dislikes, you'll have a better idea of where your own pattern should start.  Plus, you'll have the unique experience of trying on gowns in a bridal salon, which can be so much fun!
4.  Know your limits.  If you've never sewn a garment before, it's not a good idea to make that first dress your wedding dress.  I'm not saying that a beginner can't sew a wedding dress, but if your sewing skills are not terribly advanced, don't choose a dress that is too complicated.  Choose a simpler design or get someone more experienced to help you.
5.  Gather inspiration for your dress.  Look at bridal magazines and wedding websites, snagging photos of dresses you love.  Figure out which aspects of these gowns appeal to you and what embellishments are must-haves for your dream gown.  Don't limit yourself to looking at wedding gowns, especially if you don't want the same as every other modern bride. Peruse the photos in books (or on websites) of historical and retro fashion, couture fashion, film costuming — anything that will inspire you.  Join these together and mold them to create your own dress.
6.  Study your pattern choices carefully.  Once you know what you want, search for patterns that illustrate your design.  Be sure to study the line drawings closely, taking notice of different bodice and skirt shapes.  Remember that a pattern is just a jumping off point. You can mix-and-match or alter patterns to achieve your silhouette, then add embellishments after you finalize the base dress pattern.  Don't be limited by bridal patterns either, as you may find what you want in the special occasion, historical, or casual dress categories.
7.  Do your sewing research.  By sewing your wedding dress, you may be entering into a new area of sewing, one with more advanced techniques and unfamiliar fabrics.  Before you start dress construction, read a few applicable books to get a feel for what tasks you'll be undertaking.   Not only will they familiarize you with the process, but they will be resources to help you along the way. The book that helped me immensely during this process was Bridal Couture:  Fine Sewing Techniques for Wedding Gowns and Evening Wear by Susan Khalje.
8.  Make a muslin (or three).  It's very important to make at least one muslin (or toile) mock-up of your wedding gown.  You will not only be able to get the fit and the length right, but you can also practice any new skills that you may be encountering.  This is especially important if you're trying out advanced techniques for the first time, like lace work or button loops, as this gives you the opportunity to become acquainted with those skills before cutting into your gown fabric.
9.  Take care of your dress, while you're making it.  Be aware of what's around you and your bridal fabric whenever you're working on your dress.  The last thing you want to do is spend hours and hours of time sewing your dress just to stain it.  Pretend that you're in a couturier and keep yourself and your sewing area clean.  Wash your hands before touching your fine fabric and avoid applying lotion, as it can stain fabrics.  Keep your nails snag free.  Keep your sewing table clean of dirt, lint, and threads from other fabrics.  Don't drink or eat around your dress.  Put your dress away or cover it when you're not working on it.
10.  Take your time.  The most important thing I can stress is to take your time.  This is not the project for speedy sewing.  Don't take any short cuts.  Don't set unreasonable time limits for yourself.  Instead, take this time to do your finest sewing and add all the finishes and details that will make your dress an heirloom.  If you're taking the time to sew your dress, why not sew it as best you can?  Make this experience a pleasurable one, not a stressful one!